::NOTE: this is a *sticky* post. Please scroll down to see New posts.::
Well, who doesn't love a party?! This just sounded like too much fun to pass up, so come on! Let's get this party started!
The Ultimate Blog Party
....woohoo!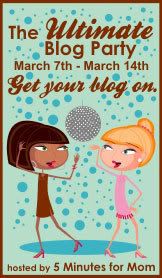 Welcome and thanks for stopping by my little part of this awesome blog party! For those new to my blog, my name is Jaime and I am wife, mother of 1 (of course I want more, but it's all in God's hands. Currently my son is praying for twins!..). I am mostly a sahm, however, I am not sure that accurately describes us moms....are we ever really home much? Even with one, there are plenty of activities to keep me busy! I also have a little biz of handmade goods that I sell over at
Etsy
as well as some boutiques. I love making things by hand, especially for adorable little wee ones to wear. I started this blog mainly to post about crafty type things, however, it seems to include all sorts of things from family to the goings on in my life, and just *stuff* in general.
Some of my favorite things:
Starbucks coffee (current fav is the Cinnamon Dolce Latte..yumma!)
dark chocolate
Izzy pomegranate juice
eating strawberries and kiwi together
making fun crafty things with my son, like flubber!
PBS channel
watching my son play soccer
Jane Austen novels
vintage anything
hmmm, this list could go on.....
However, must not keep you from the blog hopping party! Thanks for visiting! Leave a comment below so I know you were here and can come visit you!